Economic Outlook: Near-Term Challenges Shouldn't Knock Recovery Off-Course
We expect inflation to return to the Fed's target levels by 2023
Originally written by Preston Caldwell for Morningstar.com
Despite widespread worries about near-term headwinds, including supply chain disruptions and the war in Ukraine, we remain upbeat in our outlook for the U.S. economy. We expect inflation to eventually drop back to normal levels, while economic growth remains strong.
U.S. real gross domestic product growth accelerated to 7.0% (annualized) in fourth-quarter 2021, an increase from the previous quarter. The uptick in growth was attributable mainly to inventory buildups, indicating a partial alleviation of supply chain issues. Ongoing normalization of consumer behavior as omicron fades should support further growth in the near term.
U.S. GDP Growth Accelerated in Fourth-Quarter 2021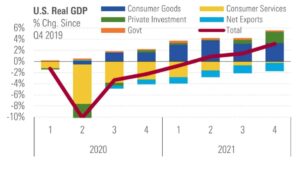 Source: Morningstar
High near-term inflation remains a key concern. Consumer Price Index inflation reached 7.9% year over year in February 2022, the highest since the 1980s. Inflation in the next couple of months is unlikely to look better, owing to the surge in oil prices due to the disruption of Russian supply. Nevertheless, we expect oil prices to fall greatly in coming years from today's elevated levels. Even more important, we expect a significant deflationary impulse as the supply of autos and other durable goods catches up with demand. We project inflation to drop below the Federal Reserve's 2.0% target by 2023, and average just 2.3% over 2022 to 2025 as whole. This is below consensus, which we think is overreacting to near-term developments.
We Still Expect High Inflation to Be Temporary as Supply Issues Are Resolved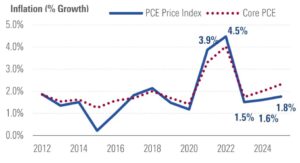 Source: Morningstar
The Fed's shift to tighter monetary policy bolsters our confidence that high inflation will be tamed. Markets are now pricing in an increase in the federal-funds rate to 2.5% by the end of 2022, a much more aggressive pace of tightening than previously expected. This will come at the cost of slightly slower near-term GDP growth, but we don't think a recession is on the horizon.
The Fed Is Now Expected to Tighten Very Aggressively in 2022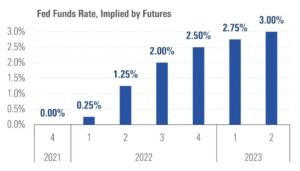 Source: Morningstar
Underpinned by our supply-side views on the economy, our GDP growth expectations are about 2% cumulatively above consensus. We think ongoing expansion of the labor force will support continued solid growth. While labor markets have shown signs of elevated tightness, we think this reflects the rapid pace of hiring rather than the breaching of maintainable limits in the level of employment. Despite the media frenzy around the concept of a "Great Resignation," a more accurate characterization would be the "Great Reshuffling." Workers aren't leaving the labor market in droves; instead, they're trading up for better jobs.
We Remain Above Consensus on GDP Growth in the Medium Term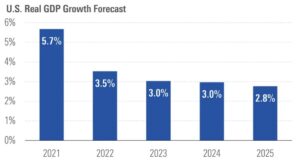 Source: Morningstar